M. Ward
End of Amnesia (Future Farmer Recordings)
By: Alex Steininger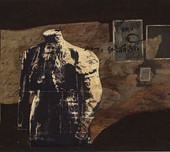 From the faint to the jangle-y, M. Ward manages to master it all on his latest, End of Amnesia, an album that is subtle and lo-fi, reveling in the quiet moments, saying more with silence than most artists will ever manage to say in their lives.

The album is the perfect combination of ultra-timid singer-songwriter and flushed out, light pop songs. M. Ward's voice is shaky and airy, sounding like a cross between just waking up and walking around in complete confusion, balancing it all with a bit of heart broken sorrow and melancholy appreciation for life and all of its wonderful surprises.

The songs are potent in lyrical content, which M. Ward makes apparent when he sings, wrapping the tunes around his voice, preferring to use the instrumentation as a guide rather than a force to overshadow.

Here is a brilliant songwriter in his right, just making a name for himself, coming out of the darkness to inform those in the light. Eerily beautiful, strikingly memorable stark naked acoustic songs, M. Ward is a name to remember. I'll give this an A+.