Lush
Ciao! Best Of... (4ad)
By: Alex Steininger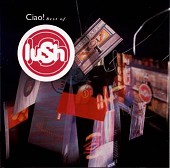 An amazing pop band able to form catchy anthems out of every style they delved into, Lush was due a 'best of' album. Ciao! Best Of is that album, an eighteen track album showcasing their transformation from fierce punk, jangle-y pop, ambient, and folk-pop.

Writing songs within these structures, often crossing over, blending more than one style at a time, Lush was more than a pop band. They were a creative team able to transform the simplest of melodies into a soaring anthem, a dazzling ambient work that you sat and absorbed for hours, or a charged punk song that would knock you off of your feet. All while ensuring the pop hook had its place, caught you, and kept you coming back.

The Ciao! does a great job of maintaining the band's legacy. It takes plenty of classic anthems out of their catalog and delivers them on one disc, sure to expose new fans to this tremendous band, and give the old fans a non-stop collection of some of their favorite songs.

Now that Lush is just a memory, this 'best of' album keeps their memory in tact, preserving their legacy, and ensuring plenty more fans will be hip to their sound, influenced and transformed by the sounds they were able to create. I'll give it an A+.