The Germs / Dead Boys
Germicide & Various What? Stuff / All This And More (Bomp! Records)
By: Gary "Pig" Gold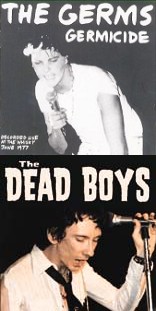 OK Class, ready? It's time to remember exactly WHAT (real) Punk Rock is (was).

I've rarely heard it better explained than in Germs drummist-to-be Don Bolles' notes inside Germicide, the dare-I-proclaim-it Historic Recording of the inaugural public performance by the band that more or less invented 'tude, 90210-style. "After two or three measures of the opening track," Don warns, "two things become painfully apparent. One, the first two lines alone contain at least six major mistakes, and Two, compared to The Germs, bands like The Clash and Sex Pistols come off sounding like the Mahavishnu Orchestra, Styx, or King Crimson." Case Closed!

What? Stuff, meanwhile, is an equally compelling collection of great sides from the What? Records archives, they being the very first label to document on vinyl the burgeoning California punk scene circa "God Save The Queen." Yes indeed, them Germs are duly represented (check out the B-side of their very first release, recorded live at the filming of Cheech & Chong's Up In Smoke movie!), as are future members of the Go-Go's, X, Wall Of Voodoo and even Rank and File, proudly producing their first tentative screeches and pummels as members of The Eyes, Skulls, and (the still-incredible) Dils.

Not to be out done, New York City (by way of Cleveland)'s very own Dead Boys were also busy dismantling all things r 'n' r in their own inimitable fashion via such anti-classics as "Caught Wit The Meat In Your Mouth" (the best song Aerosmith never could write), "Sonic Reducer," and thoroughly transplendent readings of "Search And Destroy" and even the Syndicate of Sound's "(Hey) Little Girl." All This And More captures brutally joyous on-stage versions of these songs and even a touching ode to Christmastime on the Bowery ("Death May Be Your Santa Claus") as recorded during their absolute gabba-gabba-heydaze. Thank God Bomp isn't afraid to keep the TRUE meaning of all things Punk alive with such crucial releases as these. Required Listening, each and every one.