Shanti Project Collection 2
Benefit Album for the Shanti Project (Badman)
By: Alex Steininger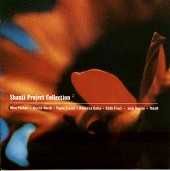 Former Throwing Muses front woman Kristin Hersh's two tracks, "Hate My Way" and "Garoux des Larmes" (both solo acoustic) are the two most poignant tracks on the album, delving deep down into her mind as she delivers two wickedly abrasive songs sure to send shivers up your spine.

The Spinanes' Rebecca Gates two tracks, "Move" and "The Colonel's Circle" are two more reasons why this album is so compelling. Her smooth, but deeply dark songs are haunted with shadows while trying to open up to the light outside. Her voice glows like the moon, illuminating the dark songs, while her lyrics add an oddly sinister style to the sound.

Paula Frazer, Edith Frost, Mimi Parker, MAdm, and Julie Doiron, who also have two songs each (except for Julie, whom has three songs), also make this benefit compilation for the Shanti Project, an organization that helps HIV and AIDS victims live independently [visit www.shanti.org for more info], worth every penny. I'll give this a B+.