Bob Schneider
Lonelyland (Universal Music)
By: Alex Steininger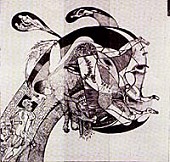 Bob Schneider's Lonelyland is a surprise delight. The songs are slick; the production impeccable. The life, at times, seems sucked out of the boring songs. Though, for some reason, even when the production tries to take the life out of the songs, Schneider manages to pump twice as much breath and blood into the songs, keeping things lively and flowing, giving everything the life it needs, and ensuring the listener a good time.

Bob has a deep, rich voice that is great at telling a story or expressing its emotions. And the instrumentation is sunny and upbeat, pushing the dark folk-pop of Schneider into a happier realm, giving the songs something more to live up to.

The album sounds like the afternoon settling in for the evening; watching the sun go do down as it paints the sky a beautiful red. It is the type of album you can play while sipping wine and eating a gourmet dinner, or the type of album you can play while sitting down in a big, comfy chair enjoying life.

As much as I didn't want to like it, Schneider delivers a solid performance backed by solid songwriting. This is a warming album that, though depth is sometimes not present in the lyrics or the music, just warms you up from the inside out and earns a place in your heart. I'll give it a B+.