INTERVIEW: Sunday's Best
Tom Ackerman Steps Out From Behind The Kit and Talks About His Latest Band (Polyvinyl Records)
By: Alex Steininger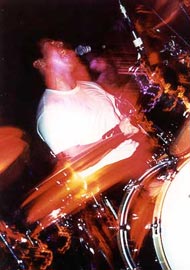 In Music We Trust: Tom, you used to front Skiploader; with Skiploader you were signed to Geffen. How do you go from being a front man of a band that was signed to a major label to backing a band on an indie label?

Tom Ackerman (drums, Sunday's Best): I moved down from Portland back to California in early 1996. I immediately started a new band, Neighborly, where I continued to play guitar and sing. The chemistry just never happened and as I grew more jaded, I contemplated giving up rock altogether. Than I began playing drums for Sunday's Best on a temporary basis and just never left. Drums were my original instrument, so I guess I just fell back in love with them.

IMWT: But, as far as egos go, doesn't that just eat away at your ego and hurt your pride that you have to back someone else up after you were a frontman for a band that has had a bigger shot at the platinum than the person you're fronting?

Tom: Not really. I still contribute to the songwriting process by writing lyrics and a little music, plus I don't have to feel the burden of "carrying the band" by writing all the songs and being the "frontman".

Sunday's Best is an amazing democracy, the first i've ever seen work as a band. The guys i'm playing with are my best friends. If they wanted to change and be a polka band tomorrow, i'd do it. As far as "ego" goes, you'd be amazed how much age calms down that monster.

IMWT: How do you deal with it and do you enjoy drumming now?

Tom: Drums are great because they're so physical. I have always been a jock, i still play ice hockey in a "beer" league, so I love just beating the crap out of them.

IMWT: Songwriting must still be in your blood, though. Do you feel you influence Sunday's Best a lot or no more so than any other member (excluding the primary songwriter)?

Tom: People do look to the "old guy" a little out of respect, but mainly, we all feel comfortable enough to express ourselves and try ourmusical ideas out. I guess i'm like a big brother; hopefully, the mellow older brother that's already moved out of the house and doesn't fuck with you anymore.

IMWT: Do you ever get the hankering to get back in front of the mic and give it one last shot?

Tom: I sing back-up on almost every Sunday's Best song, so i'm not really lacking microphone time. As for whether or not I want to play "frontman" anymore, i've had opportunities to put Neighborly back in some different forms, but the idea just seems tired to me now. I have accepted what I am; I am a solid drummer and live performer, and a good collaborater. I'm just not a rockstar.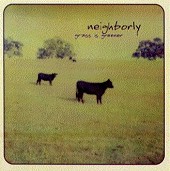 IMWT: Whatever happened to Neighborly? I reviewed Neighborly in the May 2001 issue of In Music We Trust and liked the CD, though it left me wondering why you didn't hit the road in support of it and give it all of your energy. It left me lacking something.
Tom: I believe you detected the lack of chemistry. The Sunday's guys like "Grass is Greener" and have offered to play support roles, but it's not my thing anymore. I'm happy and proud to be the drummer of Sunday's Best.
IMWT: Skiploader signed to Geffen around the time fellow your peers, like Heatmiser and Everclear, were starting to take off. Of course Everclear hit the big time and Elliott Smith left Heatmiser to go on to get nominated for an Oscar. Does this ever leave you wondering what could have been for you if you would have stuck at it?
Tom: Maybe the first year or so when they were all taking off, but then you realize that those people are really talented, and talented in a way that a lot of people find enjoyable. Now it may be argued that I have some talent, but I think what I enjoy writing and playing is a little too idiosyncratic for most people. Plus, people just don't dig my voice all that much.
With all this "woulda/coulda/shoulda" Skiploader nonsense, fuck it; life goes on. Do you honestly think i'd be a better person today if I too was famous like Art Alexakis? Do you think i, and people from bands like Pond and Hazel and .30-06, have failed at music because we don't have any platinum records? Is life incomplete without certain trophies?
If there is any injustice in the above mentioned "truths", it's that the popularity of Elliott and Everclear is not reversed and that the other members of Heatmiser (especially Neil Gust and Tony Lash) all but get forgotten. You seem to have put a lot of stock in what people get in return for their efforts; anything frustrating you?
IMWT: I interviewed you back when Skiploader broke up and there seemed to be a lot of tension and anger between you, the band, management, and the label. You seemed to have a chip on your shoulder or a grudge for them all and the way the band split. Has time shaken the temper of that or are you still housing scars from the Skiploader demise?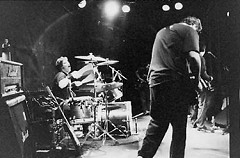 Tom: The chip is gone as I realize the role that i've played in all those things happening. I eroded the band's morale with my duplicity and my ambitions to be famous. I hurt the guys that I considered to be my friends and then bailed to California and married the first ex-model I could get my hands on. But i'll be attempting to make amends soon enough, so maybe there's hope that we can still be friends. I miss Jeff, Craig, Kevin and Don [Robertson, manager] these days. I hope they're all happy.
IMWT: I'm sure you're bored and angry enough at all my Skiploader questions. Tell me about Sunday's Best. How does the songwriting process work there?
Tom: I'm neither bored nor angry. The tone you've given to your questions seem to express an agenda that will probably end with my answers being edited or truncated in whatever publication this ends up in. But i'm answering honestly, so do what you like...
In Sunday's Best a band member will come to practice with a couple of parts max and then the rest of the band will help shape the song and usually write another part or two. Ed writes all the vocal melodies, and usually the lyrical line that starts us off. I will then usually fill in the majority of the lyrics, crossword puzzle style, until we record. Things tend to change a little when we're demoing because hearing things back on tape reveals flaws that are not always detectable at rock volume.
IMWT: Where do you see Sunday's Best going in the coming months and next year or so? What are your expectations for the band?
Tom: We hope to continue playing mini-tours on the west coast, go to Japan in the fall, and maybe to CMJ. We want to record this winter and put a record out this spring. My only expectation is that we will continue to surprise each other (and hopefully the audience) with the new songs we're writing.
IMWT: What is the band vision, as a whole?
Tom: To be true to ourselves as songwriters and to have fun. The process is more important to us than the product.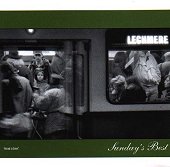 IMWT: What did you like best about the band's debut full-length?
Tom: We still love everything on it. We'll still put it on in the van and listen to it when we're driving around to shows.
IMWT: What would you change about the debut given the chance?
Tom: Nothing. It stands as it is. The ep still stands as its own entity and the next record will be different from those two. I actually enjoy the "imperfections" the most of our first two releases.
IMWT: You're also recording and producing bands now, as well as working with other hot L.A.-based acts like The Jealous Sound. If The Jealous Sound tours, will you be on the road, or was that nearly a studio project for you and someone else will pick up your part for the road?
Tom: I did the Jealous Sound stuff as my senior project for LMU. I got an A in the class. That's the end of my involvement with them.
IMWT: Do you see yourself wanting to record and engineer bands in the future as a full-time job, or do you want to focus on playing music? Or is there a happy median you're striving for?
Tom: I'm taking the GRE in June and going back to school to get my high school teaching credential. I currently have a full-time job with benefits and the band I play with in my spare time. That's about as much as I want to do with the "recording industry". The perenial adolescence is over.
IMWT: Tell me about Sunday's Best next record. Have you already started writing it or working on it? Or even talking about it?
Tom: We have about 4 or 5 songs written. We had hoped to do a double album, but our songwriting has been slowed of late. We'll figure something out...
IMWT: Well, that seems like enough questions for now. Unless I've left something out you'd like to mention?
Tom: Yes, I'd like to thank all the people in and out of bands that have supported Skiploader and Sunday's Best. We hope to someday repay the favor.