Second Hand Poets
S/T 3 Track EP (Self-Released)
By: Brian Connelly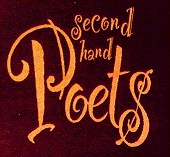 If ever one could sense a band's greatness restrained by how impersonal the studio can be, that band would have to be Second Hand Poets. As they themselves imply "distortion levels down and the musicianship up" and this does not always work so well in such technical locales. This is not to imply that they were necessarily overproduced. It may be a simple case of not achieving the full conceptual talent with these guys. Blatantly untrained but beautifully raw and emotional vocals, a wild, writhing but seriously capable guitar that grabs you by the collar and demands your attention and a thrashing rhythm section that pronounces every cymbal crash like it was it's last, this band sounds boxed and packaged on disc. This is the kind of band I wish would stop by my hometown just once. If I had a real job I'd fly out to see them, but on my budget-- One exception to this rule is "Break of Day," an acoustic piece that gently and lovingly wraps up this all-too short album. It acts as a nice "time to wrap it up" closer which sets a picturesque scene of a couple of music-loving fools just allowing their God-given gifts to flow.

Still, the Second Hand Poets do a wonderful job of conveying their sense of musical freedom on disc. Every song is vibrant with life; they make no secret of fully loving what they do. Just picture the thrash and excitement of punk bands like Pennywise and Lagwagon but with the musical artistry and influence of anyone from Rush to Genesis to U2 to Natalie Merchant. If Live had half the heart these guys did-- or Face to Face had half the talent-- Well, we wouldn't need a band like Second Hand Poets. These guys are an inspirational underdog story waiting to happen, and I sincerely hope it does some day.