Nada Surf
The Proximity Effect (Mardev)
By: Alex Steininger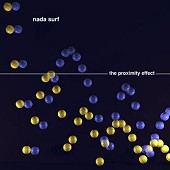 Remember Nada Surf? How could you forget. They had that semi-huge hit, "Popular," which seemed to be everywhere during its peak. Well, after the follow-up single failed to produce the amount of hype that "Popular" did, the record label sent Nada Surf back to the studio to record their sophomore effort, The Proximity Effect.

After hearing it, though, they decided they weren't going to put it out and left the band in the lurch. Europe got to taste the album, as the band and record did very well over seas. However, it was canned in the states indefinitely.

Three years later, the band managed to get their master tapes back and self-released the album in the states. The result is a powerful, political, and genius album that holds intact its indie rock integrity, with a slick, tight major label recorded presentation.

The Proximity Effect is a masterful combination of indie rock sounding power-pop. "Firecracker" blazes through it all with a wall of guitar noise, crushing rhythms, and a powerful rock belief. Where as "Troublemaker" is soft and breezy, trading in the noise for layered, subtle hooks.

Then there is "Hyperspace," the album's lead track, which is about as equally rock and pop as you're going to get. Sweet vocal hooks lay on top of buzzing guitars and bouncy drums. Strong lyrics line the song, giving it depth, while the indie rock structure of the song gives it a very honest, down-to-earth feel.

"Amateur" builds on the vocals and guitar that open the song and bounces into a slow, catchy song before blasting into a full-on rocker, complete with heavy bass, punchy drums, and a dreamy space-pop urge.

"80 Windows" shows the band's ability to be soft, bouncy, and still get you to sing along with energetic enthusiasm.

The album's highlight, though, is "Mother's Day," a song that is powerful and political, an eye opener both musically and lyrically.

Musically the band hits you with quirky, guitar-driven post-punk that unleashes the fury and anger towards the topic at hand, combining vengeance with a soulful pop feel. Lyrically, the band tackles the ugly truth of rape and confronts a rapist and asks him how he would feel if someone raped his mother or sister:

I want to know, I want to know/ Do you have the balls to ask/ What do you see when you look at a girl?/ Is she a game you want to win?/ If no one was looking/ What would you do to get in?/ Do you have friends who would be proud if you went in for the kill/ Do you have friends who would do it/ Even against her will?/ What if they did that to your sister?/ What if they did that to your mother?

Then they bring all home with the line, "I can't forget that tomorrow's Mother's Day," reminding the rapist that what he is doing to the female, he is doing it to someone's sister or mother or friend.

Finally, they remind the rapist, "You'll feel good for ten seconds, she'll be screwed up for life. Blue balls and all that bullshit...".

One of the most honest, heartfelt looks at rape, "Mother's Day" is no exception. It is the rule for this album. Front man Matthew Caws and company deliver fourteen sweet, powerful, and hook-laden rock songs complete with sophisticated lyrics that will endure throughout time and make this album timeless. I'll give it an A+.