The Minders
Golden Street (Spin Art Records)
By: Alex Steininger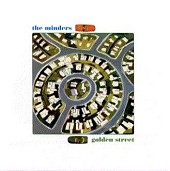 It should be noted that Golden Street is one of the best pop albums of 2001. Martyn Leaper and Rebecca Cole, with the help of former bassist Joanna Bolme, never let their guards down, delivering a flawless album chalk full of sunshine pop, jangle-y melodies, and Elephant Six-60's am rock better than anyone else.

Now, that's a bold statement. There are plenty of bands out there trying to be The Beatles and trying to revisit classic 60's am rock-pop. Some very successfully, even. However, it is The Minders ability to deliver lush, subtle melodies coupled with engaging rock beats and interesting, if not necessary lyrics that make them stand above and beyond everyone else.

The title track is the ideal pop song: bouncy, lush, powerful, and containing words you actually want to sing along with, even though no matter what they're saying, you'd catch yourself singing the words.

"Treehouse" continues with the band's knack for infectious, irresistible pop ditties. This time around, instead of hooking you with a faster, bouncy song, they jangle with a slower, more acoustic-based one. The drums still strut their stuff, lightly jumping in the background, and Martyn's voice always provides vocal hooks.

There is nothing this band can't do. Delving into some wild rock, "Hand on Heart" is prime example of the band's ability to master the art of 60's pop and then turn around and come off equally pro on 70's guitar-driven rock anthems.

"Give Me Strength" is a bona fide hit, if only modern rock radio where what it was in the 50's and 60's. The song has the juicy verses and then picks up the pace on the energetic chorus. The bridge melts you as well, with bursts of trumpets spicing the song up even more so than it was before.

Cole, who provides the harmony backing vocals, takes center stage on "Sleeping Through Everything," a slow, twisting pop ditty that is just as addictive and hook-laden as every other track on this album. Cole's voice is sweet like an angel, making you wonder why she doesn't sing lead on more tracks.

I could go on, but The Minders never create a bad or unappealing moment throughout this entire disc. Very few records are flawless, however Golden Street is as near perfection as they come. Thirteen shining, poppy nuggets that will leave you stunned and in amazement. I'll give it an A+.