Le Tigre
From the Desk of Mr. Lady (Mr. Lady)
By: Alex Steininger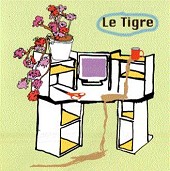 Former Bikini Kill front woman Kathleen Hanna is back with her latest project, Le Tigre. Maintaining the punk edgy-ness that was Bikini Kill, as well as the political-charge that made so many fall in love with Bikini Kill, Le Tigre charges on while adding elements and expanding beyond just punk rock.

"Get Off the Internet" is a perfect example of where Bikini Kill was, while showcasing where Le Tigre is going. An electronic-tinted punk rocker with plenty of pop goodness to it, the song has balls and a sweet song. "Bang! Bang!" however is a non-stop screamer, roaring back at you with anger and political-ness.

Then there is "Gone b4 yr Home," a poppy dance song that will get you bumping and bouncing all around. And let's not forget "All That Glitters", an industrial rocker that really finds Kathleen Hanna and crew expanding beyond anything they've done before.

If you want Bikini Kill, Jr., this is not it. Le Tigre has its roots in Bikini Kill, but is nothing like them, even in the slightest. Here is band that isn't afraid of experimentation, as this EP clearly displays. From pop, punk, electronica, and industrial, they try it all. I'll give this an A-.