The Halibuts
Life On The Bottom (Upstart Records)
By: Gary "Pig" Gold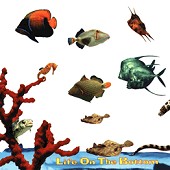 You know, I'd be the last person on earth - or the high seas - to begrudge Dick Dale his recent commercial rebirth, but somewhere amidst his reverb-drenched backwash has been lost the many stylistic intricacies of the genre known and well loved as Surf Music.

The Halibuts, no mere Pulp Fictionites, have been operating since at least the start of the first big surf revival (circa Orange County, CA: 1981), and their long-standing mastery of the music is readily apparent throughout Life On The Bottom. Sure, the Fender twang's present and accounted for, but so's the sax (sorrowfully AWOL since Mike Love last honked over the "Surfin' USA" b-side), the keyboards (flavoring "Madcap" in particular with a sweet, subtle hint of Ventures), that all-but-lost wiff of the Hawaiian Isles (yeah, Don Ho, not to mention a couple'a Elvis movies, certainly flattened that wave for a while!), and even a refreshing splash of marachi ("Hombre De Palabra"): all vital elements of surf music's initial reign happily gathered together again on this fine disc.

So yes, if it's mere Tarantino-brand sounds you crave, you'll find it here (ie: "Suicide Bay"), but along with so very, very much more (check out the H.buts' take on Mr. Gershwin's appropriately-chosen "Summertime") that you'll probably never be able to hear surf music, Dale-style, again-- at least without feeling you barely got in up to your waist.