Gorky's Zygotic Mynci
The Blue Trees (Mantra Recordings)
By: Alex Steininger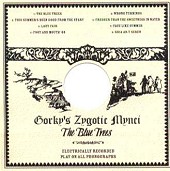 Gorky's Zygotic Mynci's The Blue Trees is a majestic record. It's beautiful in every sense of the word. The guitars are light and crisp. The vocals are soft and delicate. And the music balances it all, playing as the background music for a tea party, late nights looking out your window at the rain hitting the ground, or as the record you put on to fall asleep to.

The record is hard to explain. The weeping string arrangements and the soft, breezy feel of the album make it feel as if it would have fit in perfectly back in the 50's. Though, it's too modern to have been recorded in the 50's. One thing is for sure, though. It's a rare record, the type of record most artists dream of recording their whole life. Beautiful and timeless, touching and delicate, it has everything music should be about. I'll give it an A.