Baseboard Heaters
Lost All Faith (Self-Released)
By: Alex Steininger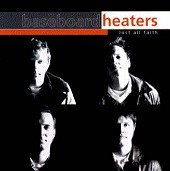 Portland, Oregon's Baseboard Heaters deliver your typical alt-country/No Depression record on Lost All Faith. Produced by former Freewheelers front man Luther Russell, the songs are tight, punchy, and fueled; you can't help but think this is the best record the band will ever make. However, despite the immaculate production, it's the songs that matter most, and the Baseboard Heaters just don't really grab you with anything new or earth shattering - not to say you need to be new or earth shattering to be good.

The problem with this album is just that it sounds like every other alt-country band out there. Except on tracks like "Truth," the opening track, which is a solid piano pop song a la Billy Joel serenading you with a sad, broken tale of life.

Baseboard Heaters deserve credit for being lively and energetic. When it matters, though, they just don't come through. I'll give this album a C-.