Jim Hurst and Missy Raines
Two (Pinecastle Records)
By: Alex Steininger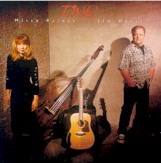 Missy Raines voice is nothing short of divine. She can not only carry a tune with grace and elegance, but she can make it sound sweeter than it really is, turning a simple word or phrase into a heavenly phrase put to music, captivating and enchanting, taking you by the hand and comforting you. Jim Hurst's voice, on the other hand, is typical male country/bluegrass stock, delivering the notes slightly off-key with that Nashville twang, but perfected by the music, glossing everything over and making it sound pitch perfect.

This is a good album. It encompasses sweet, dewy mornings, starry nights, and blazing summers. It is a rich, vibrant album with plenty of home-spun happiness and cheer to make the listener smile and feel good about their life, if only for a few minutes while the album plays. The songs are solid and flow fluidly from one to the next. I'll give it a B+.