Hank Williams
Alone With His Guitar (Mercury Records)
By: Alex Steininger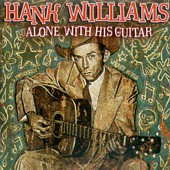 Hank Williams was one pissed off, angry man with a knack for writing original, earth shattering songs about the tragedies of life, love, and drinking, among several other topics he tackles with ease. Nearly fifty-two years after the songs were written and recorded, Williams' voice is still loud and dead on, delivering vital messages that still stand true, and will always stand true.

Alone With His Guitar is a bunch of demos and on-air performances that had never been released in this form prior to the 1998 ten-disc box set. But, for those with limited funds or who haven't been fully introduced to Hank Williams prior to that, Alone With His Guitar is an album sure to captivate and stun, not to mention enlighten.

The album has so much to offer. One listen to the album will leave you with a whole new outlook on life. That is how brilliant and timeless Williams' words and striking songs are. He can make you bitter and sad one minute, happy and proud the next, before making you collapse on your knees in pain and in tears, forcing you to ball like a baby.

Never has a songwriter touched you with such raw, lively songs. Others have come close, but none can get you so entangled in the story of their life as Williams can. Naked and raw, Williams' songs may seem sparse to some, but those who get it will realize they're pure and honest, bare bones, but still fuller than anything else out there. I'll give this an A+; one of the best albums ever.