INTERVIEW: The Strand
Electronic Act The Strand Speaks (Strand)
By: Sonya Brown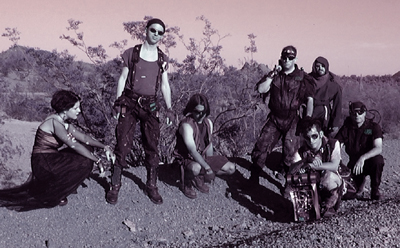 Industrial dance beats prevail in the debut release, In The Trench, by Arizona's "The Strand". With electronic rhythyms and both male and female vocals, In The Trench provides a variety of emotions dealing with some of the stresses of everyday life.

"I hate my f---ing job"!, for instance. I can certainly relate with the chant of details embedded within this song.

"Chicks Suck...(or Guys Suck)" explores dating perspectives using both male and female Strand vocalists.

"Bookmark on the Shelf" is my personal favorite track on In The Trench.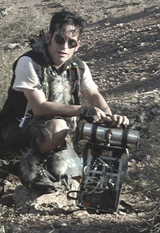 Founding band member, Dave Strand, answers a few questions for In Music We Trust...
Sonya: Who is in the current line up for The Strand?
Dave: The live show consists of seven members. Two vocalists, three keyboardists, one drummer and one special sound FX guy. Here are their names.
Dave Strand - Shouting
Kimberly Brown - Singing
Scott Levy - Keys
Steve Laskarides - Keys
Jeremy Reich - Keys
Neal Z - Drums (acoustic and electronic)
Randall Hampton - Special Sounds
Sonya: You describe your music as "Industrial Dance". What aspects do you feel makes your music more geared for the dance floor?
Dave: I suppose it has a lot to do with the beats I construct. With a lot of my newer songs I'm more conscious of high volume club situations and danceability. It's a great feeling to watch people moving to something I made; it's the biggest compliment for me.
Sonya: What do you like to do for creative inspiration?
Dave: Oftentimes I have a specific incident or something that is bothering me, and it's more of a venting experience than anything else.
Sonya: Your website contains a wealth of information (http://www.strandland.com). I especially like the equipment section that lists all of the gear used by The Strand, with links to the actual equipment sites. This seems like a novel idea, and I would like to know how this came about, and who is responsible for the idea to make this sort of information available.
Dave: Many of my friends are in bands and they often ask me what gear I use, so I went ahead and put it out there quite honestly because I don't usually like to talk about gear. It gives me a headache, and I'm a bit forgetful when it comes to gear.
Sonya: Your website also explains the meaning behind the band name, The Strand, a philosophy called "Strandism" which is based on the concept of a child's Koosh ball. "If you look closer at the center of the Koosh ball, you'll notice that it's made up of nothing more than a tangle of strands." Where on this "strand" do you see your music? The base of truth and morality, the ends that stretch out farther than usual from morality...somewhere in-between...?
Dave: Hey! You did your homework. Actually since each strand represents a perception, the music wouldn't really have a place on the strand but rather be imprinted upon the reality surrounding the strand. I can't actually determine how people will perceive my music, but when writing music I try to keep my words and emotions fairly close to my own personal truths or closer to the center of the Koosh.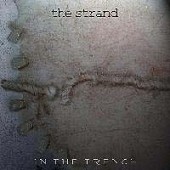 Sonya: How did the name of your CD, In The Trench, come about?
Dave: I've always felt that creation is a bit of a war-like thing, a struggle between imagination and actualization. I wanted the title to reflect that. Actually all of the titles are going to be similar. My early unfinished CD was called Digging The Trench and I imagine the next CD will be Charging the Battlefield or something along those lines.
Sonya: Where, besides your website, does your music appear?
Dave: If you're online then there're a few places, like Amazon.com, Mp3.com and Cyberage Radio. I've been seeing my music on several club playlists as well, because we mailed out about 250 cds across the globe to DJs who play similar music. It's very strange actually, I feel like people across the globe are listening to my thoughts.
Sonya: The track, "Cleanse" is featured on the Resistor Compilation. What other Compilations might be in the works for The Strand?
Dave: I'm just finishing a remix for The Azoic, and I think there was some talk about it ending up on another compilation. Other than that, nothing concrete although I'm going to be working on a soundtrack for an independent film about some people who find an alien in the middle of the desert. I might play a small role in the movie too, which frightens me because I haven't acted before.
Sonya: How did Steve Laskarides (of the Azoic) become involved in the remix of "Deceived"?
Dave: I met Steve when he was djing at the Killing Jar (a local club/bar) and we've been buddies ever since. I've been dancing to his music longer than I've known him, so when he mentioned that he was interested in doing a remix, I was all over it like a bag of chips. I was even more honored when he accepted my offer to play with us as a keboardist for The Strand!
Sonya: What are the future plans for projects with The Azoic?
Dave: Well, like I mentioned earlier there is the remix that I'm working on for them which has turned out quite well, I think. I took their song Progression and made it into a slower 'trip hop' creature. There's also some talk about doing a live show with The Azoic, but no dates set yet.
Sonya: I think we can all relate to the track "I Hate My Fucking Job"! Where are the samples from that are used in this track?
Dave: Asking me to give away the trade secrets, eh? Actually this gives me a chance to plug my favorite show in the world, "Red Dwarf". It's a British sitcom about a few guys who are stranded in space. That's where the "sick of it.." sample comes from. The other sample is from another great flick, "The Game" with Michael Douglas. Both are must-sees.
Sonya: On the track "Chicks Suck", the lyrics state "don't you ever ever ever let me Date again..." is there a personal story behind this track that you could share with our readers?
Dave: Do you want the brief answer, or the 350 page hardcover version? Heh. This song was actually meant to make fun of the way that people like to point fingers at the opposite sex for things that go sour. It's easier just to simplify and play ignorant. For me, casual dating is very hard if not impossible. I tend to get passionate and intense feelings off the bat and I skip the casual part.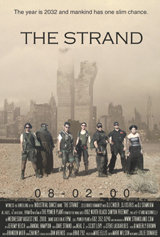 Sonya: The poster for your show on August 2 looks a lot like a movie poster. If you have considered incorporating your music into film, what type of film projects would you like to do?
Dave: Definately. I've always wanted to score movies, and I even enjoy doing sound effects. Currently I'm working on a score for an independent movie here in Phoenix, but as my knowledge and experience grows I'd love to do some big budget sci-fi insanity.
Sonya: What are your personal favorite films?
Dave: Oh boy, here's a list of em. Fight Club, The Matrix, Pump Up The Volume, Mindwalk, Delicatessen, Red Dwarf (series), The Last Supper, Clerks and Mall Rats, Brazil, Braveheart and The Breakfast Club.
Sonya: What are the tour plans for The Strand?
Dave: We are going to start by planning a simple Southwest Tour some time in early 2001. Our live show is somewhat elaborate, and there are seven members, so that makes touring slightly tricky. Each of our shows has a different theme and costumes to go along with the theme, including a short 3 or 4 minute video that rolls before we go onstage. We try not to take ourselves too seriously, so some of our costumes can be a little bit excessive (grinning about our lastest endevour which remains secret until next month).
Sonya: Tell me what you do for fun in Tempe, Arizona!
Dave: Aside from going dancing and to movies, I've been introduced lately to a new fad that is going aroundS I think they call it "reading". Apparently scientists are using the latest technology to infuse "words" onto small white pages which are bound together by some unseen force. People tell me that if I read the words from left to right, progressing down the page, that the "words" will form a story. Unfortunately I haven't been successful yet and I have only managed to cut my fingers on the paper trying.
Sonya: What is the gothic/industrial scene like in Arizona?
Dave: It's a lot different from Chicago or Milwaukee; here we seem to be part of a huge, incestuous family. There's a lot of comeradery and it seems to be mainly based on a passion for the music rather than style or status. I tend to feel at home when I'm out at the clubs and around friends. The scene out here is also very dedicated and you see a lot of the same faces going out several nights a week to keep the clubs open.
Sonya: How do the members of The Strand support themselves?
Dave: We've got some technical people, some salesmen, club promoters and DJs and some students. I fall into the technical people category and I'm currently a Audio Visual Technician which means I plug stuff in and turn things on.