Nevada Bachelors
Hello Jupiter (Pop Llama)
By: Alex Steininger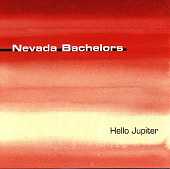 A good pop song is hard to beat. Nevada Bachelors write great pop songs that are funny, as well as filled with juicy hooks, tongue-in-cheek rock, and plenty of bright melodies. This quartet knows their way around a pop melody. So, it's not a shocker that Hello Jupiter is one of the year's most infectious pop albums out there.

Thirteen tracks that last a bit over forty minutes, Hello Jupiter hooks you from the opening chords of "No Reason," and just won't let go, even when the acoustic guitar of "Buddy" is a distant memory.

"Buddy" is a hilarious acoustic romp, "No Reason" is crunchy power-pop, and "E-mail" is a blinding pop song that brings you to the verge of tears with a soft violin that instantly takes control of the song.

The amazing thing is, these three songs don't stand alone. They are three songs among ten other pop songs of equal infectious-ness and prowess. "Garlic Houses" will have you bouncing up and down. "Marla" will have you tapping your feet to the slight-country twang. And "The Hook" will drive you mad with its unforgettable rhythm section and the uncanny vocals that mark the songs time and time again.

Far from generic pop, Nevada Bachelors don't do anything unusual or original (especially considering President of the United States' drummer, Jason Finn, is a member of this band). But, what they do - write amazingly catchy pop songs - they do well. Better than most, too. Thus, this quirky, hilarious album will become a favorite of yours; cheering you up plenty, and making you laugh way too much. I'll give it an A.