Ida
Will You Find Me (Tigerstyle)
By: Alex Steininger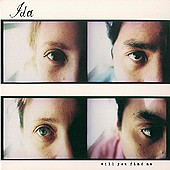 Ida's latest, Will You Find Me, feeds off of the male/female vocals that drive the band, while furthering the intricacy each voice shares with delicate, precise arrangements that swim around in your head, building and manifesting glorious pop hooks with subtle, soothing melodies.

"Down On Your Back" finds the band delivering a light, folk-inflicted indie pop song as cool and refreshing as morning mist on your face and as warm and inviting as the mid-day sun. "Shrug" adds a light hip-hop feel via the punch of the drums and the easy-flowing rhythm section, while the vocals surround you with glorious, enticing pop, reeling you in, but at your own will.

The band never forces you into anything. They lay down track after track of breezy beats and light-hearted melodies, perfecting a timid, yet secure groove that brushes up against you and politely asks you to follow it to a land of dreams and visions. But, never does it force or overwhelm you. The music adapts to your pace; it flows with you.

"Man In Mind" picks things up with a jaunting piano. The female voice is also a bit more jagged. No longer does it sing in a dream-esque tone. Rather, it seems shaken awake and compelled to tell you the truth, shaking off the hurt and pain of life and just going full-throttle, confidently, with what it needs to say.

The entire album is either dreamy or jaunting. It can put you into a slumber and it can shake you awake. It's not afraid to do either. Nor does it like to pigeonhole itself by going in one direction for any extended period of time. Will You Find Me is a fine example of a dreamy pop record that realizes you can't live in a dream forever. I'll give it an A.