Speedbuggy USA
Cowboys & Aliens (Cargo Music)
By: Alex Steininger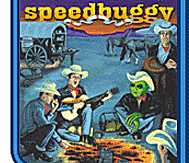 Drunken, staggering punk rock with firm roots in the music of Hank Williams and Patsy Cline, Speedbuggy USA are your typical drinking cowboys who don't want to let go of their beloved country music (and why should they?), but also want to get out there and rock. So, what do they do? They combine the two and create some of the best cow-punk known to man. Sure, Wilco (who I happen to love) are some of the best at alt-country. But, let's be honest here. They're timid and weak compared to Speedbuggy USA, who aren't afraid to down a fifth, jump up on stage, and kick the shit out of everyone in the audience with noise, noise, and more noise. It ain't noise though if you're in the know.

Cowboys & Aliens is the cow-punk album of the new millennium. Don't question that, it's true. Now that we've established that, I want you to also accept the fact that Speedbuggy USA is roaring, raunchy, carefree fun.

Fuck, what else can you say about an album this wicked; this good; this damn drunken and loose, but tight nonetheless? All I can say is, I'll be blasting this record time and time again, and will make it the soundtrack to many parties. Cow-punk never sounded so good. Ah... Speedbuggy USA knows how to rock? Now, where do the other bands (read: imitators) sign up to take lessons? I'll give this an A.