Monkey Paw
Hating You Is So Easy (Four Alarm Records)
By: Alex Steininger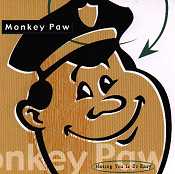 Punk rock with Its own identity, Monkey Paw doesn't overly tread waters that have already been treaded time and time again by the mass amounts of horrid punk bands out there. Monkey Paw's approach to punk rock is refreshing, especially considering how many of those aforementioned horrid punk bands there are out there. Their tongue-and-cheek antics, carefree attitude, and craving to rock all propel them into the better half of the punk bands out there. And the funny thing about it is, they're not a traditional punk band in any sense of the word (which makes them even more punk in my book).

"Fuck Your Mother" will rip you apart with laughter. Lines like "She said a dirty word/ He said a dirty word/ I'm fucked up/ I'm fucking up again" sum up the album in its entirety: the band cracks joke after joke while making sure you have a good time and rock out with them.

Every corner you turn, the band is always rattling cages. The opening lines to "Lets Get Married" demonstrates their ability to compliment and insult in the same line ("My you've grown/ And I don't mean that in a good way" or "You look tired/ And I definitely mean that in a bad way").

We all know that laughing at others is always funny. So, as they use others as the punch line, both you and the band have a good laugh. Let's not forget about the music, though. The words and attitude of the band are a big part of their thing. But they are definitely not everything.

Stop and start guitars crash down on you while the loose, fiery rhythm section bombards you with compulsive beats that get in your face and just keep getting closer. Brutal, powerful, but still a bit poppy and engaging, the music never lets you know what it's up to. It just keeps on pounding out the rock. And when you think you've figured it out, they prove you wrong. I'll give it an A-.