Leatherface
Horsebox (BYO Records)
By: Alex Steininger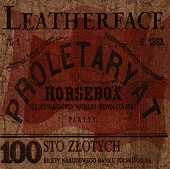 You know, Leatherface writes really catchy punk with tight, glossy (but still punchy) production. But, the one thing that I can't stand about the band - the one thing that ruins everything no matter how good they are in one area - is the vocals.

Man, it sounds like something died in the guy's throat and now he wants to sing to get it out. Way too deep and overly gruff, the drunken-pan-handler-that-just-woke-up-after-way-too-man-drugs sound just doesn't do the music justice.

If they had a new vocalist, this band could deliver borderline pop-punk with scorching emo tunes. But, with the vocalist they have now at the helm, they're just a third rate punk band trying too hard. I'll give this an F.