Amazing Crowns
Payback Live (Kingdom Recordings)
By: Alex Steininger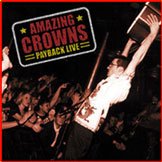 Damn, I love the Amazing Crowns on record. Their self-titled debut and their latest, Royal (Time Bomb Recordings) are two passionate, powerful, and sweaty rockabilly classics that will surely define the late 90's and early 2000's modern rockabilly sound. But, after you see them live, you'll always have their massive show in your head.

I've seen them a few times, and after each show, a few weeks pass before I can really appreciate their albums again. Their live show is just so lively and interactive. You feed off of their tremendous energy, and they feed off of yours.

So, it was only a matter of time before the band released a live record. And what better show to record than their Providence Payback show, a three night festival with several great national bands for something like $5. A way for The Crowns to thank their hometown crowd for all the support they've given them over the years.

Payback Live, the outcome of January 2000's Providence Payback, is an album that showcases the band at their finest. Uncontrollable, unpredictable, and anything but perfect, you can hear as Jason "King" Kendall misses a few words, the roar of the crowd over powers the band, and you everyone plays off of each other. But, hey, this is a live record, and it shouldn't be any other way.

"1965 GTO" roars like a powerful motor. "Baby's Out on Bail" will crack your hip with you try to shake to the thump of the upright bass. And "Minute with the Maker," a live staple and personal favorite of mine off of their self-titled debut, is boosted ten fold as the raw power and adrenaline rush of the band bring it to life. Other powerful tracks like "Halos & Horns," "Scene of the Crime," and "Luckiest Man Alive," (or rather... all thirteen songs), make this by far the liveliest Amazing [Royal] Crowns album to date. Still royal to the loyal, the band treats the loyal to a treat. I'll give it an A+.