Kittie
Spit (NG Records)
By: Alex Steininger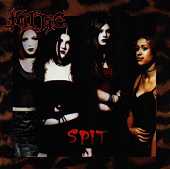 Four females, all of them under age (and illegal, for that matter)... Kittie delivers hard-edged, black eye, swollen knuckle metal sure to make all the other wimpy male metal bands out there cry, because this is the real deal. You think Metallica is metal? Metallica is the Backstreet Boys as far as Kittie is concerned. These girls don't fuck around; they deliver the metal ten times over without even blinking.

Spit, their debut full-length, is a testament to the fact that great metal can still be created in today's watered-down, dance pop crazed society. Even when bands like Megadeath and Metallica are going pop, Kittie stay true to metal, keeping things melodic enough to entice, but crazy and loud enough to make your head hurt after listening to the record for hours on end and head banging to every note.

"Charlotte" is melodic and fierce; "Brackish" is harsh and fast; "Trippin'" will have you doing just that; and "Immortal" will leave you scratching your head, wondering what is up with this acid-drenched, swirling instrumental that suddenly crashes down on the listener without even a moment's notice.

Here is real metal. Here it is. Take notice, because these gals will knock anyone, boy, girl, or thing, in their way down and destroy them. I'll give this an A-.