INTERVIEW: Noxious Emotion
Broken Cymbals and Blistered Hands... An Interview With Fritter (ADSR Musicwerks)
By: Sonya Brown


Fritter, primary percussionist for Seattle's electronic-industrial band, Noxious Emotion, is pure percussion spirit , energy and intensity. Her aggressiveness not only adds to the sound, but to the dynamic stage presence of their live performances.

After yet another stellar performance at the Paris Theatre on June 23rd, I decided to ask Fritter about herself, and about Noxious Emotion.

Sonya: Tell me about your music. How do _you_ describe Noxious Emotion?

Fritter: We are an EBM (electro-body-music) band. Our main goal is for our audience to just have a good time dancing and interacting with us.

Sonya: Who/what are your influences?

Fritter: I started playing due to listening to a lot of U2. I wanted to be Larry Mullen. Right now I listen to a lot of stuff. Project Pitchfork, Apoptygma Berzerk, Future Sounds of London, and I'm a huge Pixies fan.

Sonya: Do these influences vary greatly among the other band members, or do you share similar tastes?

Fritter: We all have similar tastes, but the actual bands in the genre vary.

Sonya: Who makes up the current line-up?

Fritter: Well, me, R. Wilhelm, Darren (Godboy) and Mike.

Sonya: Tell me about the gear/equipment that you use.

Fritter: Mike uses a Nord Lead, an Ensoniq ASR10, and various assorted other things. We have a D5 to trigger Darren's percussion, Mike uses a melodica live, and I have several broken cymbals, and my drum set actually used to belong to Foreskin 500, like way back in the day. I got it from a friend of theirs. It's not in good shape, but it does the trick.

Sonya: The broken cymbals, does this affect the sound?

Fritter: Yes, it makes the china hats louder. I'm not playing jazz here. Some of the regular crashes that I have that are broken, I keep for backup. They don't sound all that good, as any drummer can tell you. But then again, I don't pay my rent like this, either, so I don't really have the money to shuck down for real gear.

Sonya: When you stand during your live shows, is this to add to the power you are able to generate - or for the dramatic visual it creates (or both)?

Fritter: It's DANCE music. If the band doesn't look like they're having fun, why should the audience enjoy it? Electronic music is so hard to pull off live, because of the programming aspect of it. If you have a lot of money and can afford all the equipment to make it a polished set, then yahoo for you...but we don't. Anything to make it more interesting, we'll do.

Sonya: What is your favorite song to perform live (why?)

Fritter: I can't decide, really. A lot of these songs we've been playing for a while. A lot of our set still comes from the 'Symbols' CD. I like playing anything live that gives me a couple of seconds to set something on fire. I guess that's my answer! eeheeheeeeee!!!!!

Sonya: Tell me about the audience participation in your live sets - how did this all come about?

Fritter: We had a show a while ago up in Seattle, and had all been drinking. Darren was joking that he was actually going to throw the barrel out into the audience, because there were a lot of goths and we didn't think we'd go over very well. We were just trying to get their attention! It backfired on us, they loved it! Audience members took Darren's sticks away from him and started playing on the barrel themselves. So we decided that maybe we should do it all the time. Only now, we set it on fire, too. People seem to really like participating, and I think it's good; it kind of lets people know that we don't think of ourselves as "rock stars" per se. We just want to put on a good show. I am much happier with the whole show thing when the audience has a good time. We feed off that. The better time the audience has, the more stuff we try to do to keep them entertained.

Sonya: You are also a keyboarder/drummer with Written In Ashes, how do you handle the schedule of playing for 2 bands (Noxious - Seattle/Written In Ashes - Portland)? Does one band take precedence over the other in the event of conflicting tour schedules? Do you prefer drums or keyboards?

Fritter: Drums good....Noxious takes precedence, and Written In Ashes tries their best to comply with my schedule. There is no rehearsal for Noxious, so that isn't a problem. Written also doesn't tour, really, yet. So that isn't a problem, either. It all works out.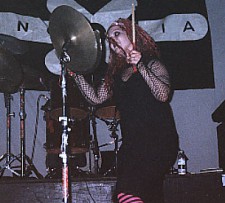 Sonya: You drum with such intensity, I'm wondering if you have any comments on being such a strong percussionist in a somewhat male-dominated field.
Fritter: I'm not really that good, I just hit the bitch out of my gear. Most male musicians don't seem to know how to react to me. They find out I play drums, and it's either a kind of confused nod and "Oh, really", or an isn't-that-cute? sort of thing. I haven't been really taken seriously a lot. But I don't care, I just like to play.
Sonya: The blisters on your hands after your last performance: is this something that happens after every performance?
Fritter: No. I'm just a puss. I bleed a lot during tour. I get blisters like the first couple of shows, then incur injuries from falling down, and getting shot with my own pyrotechnics; the last show we had, I got shot in the chest when a firework backfired. It hurts, but nobody seems to notice, and we travel with fire extinguishers, just in case. Haven't lost a limb yet.
Sonya: I saw your live performance prior to hearing any of your recorded music - and this made me enjoy the cd's even more (having a mental picture to put with the music). Do you find that the dynamic live shows that Noxious performs directly impacts the success & sales of cd's?
Fritter: I'm not sure. The CDs in and of themselves are really well-done. But I've had complaints from people who were expecting the live percussion, which you don't find on the CDs, mainly because we don't have a place to record it. I think they both affect each other. People buy the CD because they saw the show, and they come to the show because they have the CD...
Sonya: While listening to your cd's (Symbols and Elements) I noticed that 2 of my favorite tracks are very similar lyrically. The track "The Unknown" from the Symbols cd; and "Nitrogen" from the Elements CD. I'm wondering if these tracks are somehow related, or if perhaps Nitrogen is an epilogue to The Unknown. (and I hoping I'm getting the names correct here, they are somewhat hard to follow).
Fritter: Oh yeah, the sex songs. I don't know what Mike's deal is there. I've told him that whenever I hear those songs, I have to deal with the image of him having sex (shudder!!!). I don't think they actually have anything to do with each other. Nitrogen' is something we have actually been playing live for quite a while. It's been released in various remix forms previously, but only now is it on an actual full-length.
Sonya: What is in the near future for Noxious Emotion in terms of touring and new cd's/material?
Fritter: Mike is getting a new computer recording system sometime soon, I think. The programming will supposedly change, although I'm not sure how. There is a tour scheduled for mid-September through mid-October....we're going with Omnibox, our label-mates.
Sonya: Do you have any plans to take on a 3rd band?
Fritter: No, I've been in that circle before. I was once in 4 bands at a time!!! Time to myself?!?! HAHA! You must be kidding! It was kind of fun, but nothing I would do again. There are some projects in the works, but nothing I am at liberty to talk about, and we'll see what happens.