Special Consensus
25th Anniversary (Pinecastle)
By: Alex Steininger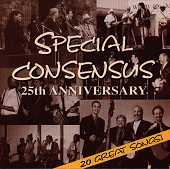 Special Consensus' 25th Anniversary is a celebration of both Bluegrass' long-standing important in the music world (spanning well beyond 25 years) as well as Special Consensus' 25 years of creating bluegrass and allowing the bluegrass tradition to live through their music.

The twenty songs on this album are prime example of good bluegrass. Hear as they rollick and stomp through speedy bluegrass that will have you kicking your heels and moving your feet, dancing all night and all day to their invigorating sounds. Then listen as they turn around and deliver a bluegrass ballad, or a slow dance cut that will have you nestling up to your loved one, slowing following the banjo or fiddle's lead.

The thing about Special Consensus is that they're not just a great bluegrass band, they're all amazing musicians. Each member handles their instrument with delicacy and care, unleashing when needed, and caressing when the song calls for it. They can croon, they can be lively, and they can be down home and sweet.

Here is the epitome of a strong modern bluegrass band. 25th Anniversary is a testament to the undying love Special Consensus puts into their bluegrass music, as well as a statement of the authenticity to their contributions to the bluegrass scene. I'll give it an A+.