Johnny Cash
At San Quentin (The Complete 1969 Concert) (Columbia/Legacy)
By: Alex Steininger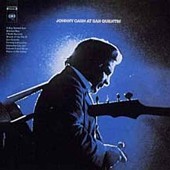 Following the success of the double-platinum Johnny Cash At Folsom Prison, Johnny Cash At San Quentin was recorded two days before Cash's 37th Birthday and released in 1969.

Eventually going double-platinum itself, At San Quentin was Cash's only LP to reach number one, propelled by the hit "A Boy Named Sue". The Man in Black turns the Hank Williams' standard "Ring of Fire" into an up-tempo, fiery country rocker, delivers a country-gospel-rock masterpiece on "He Turned The Water Into Wine," and delivers two different performances of the original jailhouse ballad "San Quentin."

The staple of Cash's sets, "Folsom Prison Blues," also finds its way onto the album. The highly energetic, bouncy country song has never sounded better, as the crowd, not unlike the crowd at Folsom, screams and cheers for Cash as the lyrics call for it (just as they do on "San Quentin").

If you thought Cash At Folsom was a bold, if not brave, gesture on Cash's part, At San Quentin takes the next step into the epicenter of the fire and comes out without a scratch. The tough-as-nails Cash delivers the performance of a lifetime, and the prisoners know it. Cash is truly a genuine genius. I'll give this an A+.