Songs for the Jetset 2000
Volume Three (Jetset Records)
By: Alex Steininger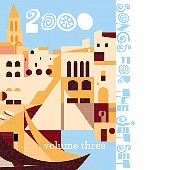 Let's make this clear up front. This is NOT a compilation. Songs for the Jetset 2000 is a group of UK artists doing Cinema Pop, a sub-genre of their own invention inspired by soundtracks of the 60's, either real or imaginary. Tomorrow's World, Daises, Wallpaper, Death by Chocolate, Loveletter, and Milky help make Volume Three the best of the series.

Psychedelic, dreamy, and lounge-y, here you'll find groovy pop music common of the mid-60's Swinging London revisited in 2000, with a renewed spark and a few added touches which help make it intriguing, sexy, and quite invigorating. Snuggle up to the fireplace with a loved one, with this record softly playing in the background, and if you don't get the lovin' you're looking for, you know something is wrong.

Delicate, sincere, and silky smooth, Songs for the Jetset 2000 will have you wishing you grew up in the swinging 60's London scene, if only for the refreshing, sex-laden sounds. But, because you weren't, your chance to re-visit those times through music has arrived. So, don't pass it up. I'll give this an A-.