Nina Storey
Shades (Red Lady Records)
By: Alex Steininger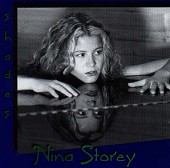 Gritty, bluesy-funk with a dirty, down home rhythm section and sweet, sweaty vocals, Nina Storey's Shades is a ripe adventure through the heartland of American rock 'n' roll, funk, and blues.

Never emphasizing any one particular style of music, Storey is able to keep things twisty and inventive, breaking new ground by traveling old paths, but never making it clearly apparent what path or paths she is traveling at the moment. Her voice can wail and it can sing; it can be tender or it can let loose and break you down. The band is spirited, kicking flavor and life into every song, as they blast out the power that fuels Storey to continue cranking out the balls-y blues-funk.

Rough, raunchy, and plenty fired up, Storey's Shades has just the right amount of funk and blues to make this much more than a pop or rock record. You'll shake and you'll groove to this gritty piece of musical landscape. I'll give it a B-.