Fiver
Strings For Satellites (Devil In The Woods)
By: Alex Steininger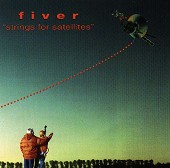 Soaring indie-pop, the subtle Fiver delivers soft, steady rock on Strings For Satellites, an album that is as much from outer space as it is from this earth. Complex, yet simple; edgy, yet gentle; Fiver's breezy guitars are held up with light-hearted, bouncy beats that are thin, but not meatless.

Casually slipping dreamy, soothing pop melodies on top of slightly fuzzy guitars, Fiver enters the realm of indie pop, while keeping one foot in the indie rock door for good measure. The band can rock out with the best of them, allowing the guitars to burn bright and hot, but preferring to keep things down-to-earth and relaxed, so you can snuggle up and enjoy the tunes, or travel with them as happy thoughts dance around in your head.

Obviously fans of the hook over the loud guitars and hard-hitting melodies, Fiver keep your toes tapping and head swimming with tasty pop nuggets track after track. I'll give it a B+.