Chumbawamba
WYSIWYG (Republic/Universal)
By: Alex Steininger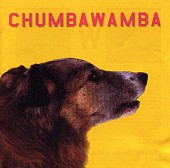 The band that took the world by storm with their catchy "I get knocked down/ But I get back up again/ 'Cause you're never gonna keep me down" chorus is back with another infectious pop, hit-laden album for the summer. WYSIWYG lashes out with the same amount of political piss-n-vinegar this band has been using for years, underscored by their knack for writing deliciously-enticing, highly-engaging pop ditties.

"Hey Hey We're The Junkies" bulldozes through your skull with bright horns and 60's pop sensibility. "Shake Baby Shake" is as warm as they come in terms of pop. "I'm In Trouble Again" rouses you with a dub jaunt before shaking you with more sweet, non-confrontational pop - with the confrontational portion of the music lurking underneath, ready to bite at any moment.

"New York Mining Disaster 1941" is a rich A Cappella number that proves this band isn't just some cheap studio-pop band, but a versatile pop outfit capable of cranking out the punk rock as well as harmonious melodies sure to make your head spin.

If you thought these guys were a flash in the pan with their smash hit a few summers ago, than you just don't know this band. Their love for music and ability to voice their opinions openly is truly a treasure. And each album finds the band expanding more and more, delivering the goods in every musical direction they turn. Here is a warm pop album sure to make fans of the oldies, boy bands, and modern rock all take notice. Now that's a BIG window of opportunity. I'll give it a B+.