VARIOUS ARTISTS
Towards the Sky (Neue Asthetik Multimedia)
By: Sonya Brown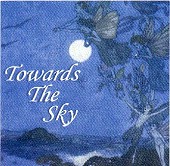 Towards the Sky, the Neue Asthetik Compilation, features some incredible bands! I couldn't wait to give this one a listen.

The cd begins softly with a track by The Shroud. "Green Velvet" is a silky, sensual track which then leads into a delightful song by Faith and the Muse titled "Patience Worth" (from their album Evidence of Heaven"). Shimmering and light with those distinctive vocals. Heavenly.

The tempo then picks up a bit with Judith's "LaBella"; and from there turns dark electronic with Das Ich's, "Der Schrei". Laboratory X keeps with the electronic mood with their contribution "Invisible"; as does Track 6, Element's "Whispering Flashbacks".

OK, now we get to Charm's contribution, "Sewn". Ohh, this is cool. I'm presently reading a horror novel by Poppy Brite based on "The Crow"; and this song would be a perfect soundtrack for this book! Scary stuff. I love it. And, speaking of movies... the next track is absolutely delectable! It's The Horatii with "She Bikini". Sounds like a darker variation of the B-52's met with some spooky twisted version of Beach Blanket Bingo! Keeping with the movie theme here, The Brickbats offer up the next feature, "The Creature". Campy and very cool, all about the creature from the black lagoon... "picking out fresh kills"...... "You can really get your kicks when you're getting torn to bits..." oh, this track rocks! I definately want to hear more from the Brickbats!

The CD gets serious again with Requiem In White's contribution, "Centuries". Inkubus Sukkubus is next (Track 11) with "Reptile", from the album "Wild". This song is dramatic and one of those songs that I'll be singing to myself days later. Track 12 is Funhouse with "Voices" from the album "Second Coming", with some strong guitar work. Star Industry follows with "New Millennium", with strong keys & synth, and again, strong guitar.

Track 14 is "Hanging Lake", by Sunshine Blind; followed by the ethereal sounding "Isabelle", by Wench. And, speaking of ethereal, one of my favorite bands, The Changelings, closes this compilation with their contribution "Orbit". (I recently had the pleasure of seeing the Changelings during their Northwest tour, so the addition of this track was particularly special to me). Orbit is a beautiful ending to a varied and interesting compilation.

Towards The Sky is a well put together presentation. One of the better compilations I have heard!