Maceo Parker
dial: Maceo (What Are Records?)
By: Alex Steininger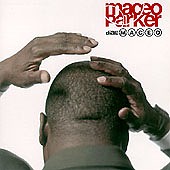 Funk legend Maceo Parker's latest, dial: Maceo, with his saxophone in one hand and grooves in the other, proves that this legend is far from burning out. With special guests including Prince (or the artist formerly known as Prince) and Ani DiFranco, Maceo pulls out all the stops for a luxurious, sexy funk album with plenty of soul.

Ani DiFranco's lead vocals on "Coin Toss" adds some zest to the funky, lust-laden piece, while the hyper-groove soul-funk of "My Baby Loves You" will find you deep in the heart of the burning rhythms the drummer and bassist serve up. And the warmth of the horns will erase any fears or self doubts you have as you throw caution to the wind and just dance for the heck of it.

Prince's production, instrumentation, and vocals on "The Greatest Romance Ever Sold" will make you fall in love all over again with this silky smooth, dynamic Prince original. This time around though, Maceo's saxophone ignites the song, adding an undeniably sexy groove right up front.

Then there is "I've Got Work To Do," another soul driven slice of funk the Maceo way: plenty of grooves, a magical vibe running through every note, and warmth obtainable by only a few. "Simply Tooley" brings things down a notch as hypnotic grooves are favored over in your face, get-up-and-dance ones. And "Homeboy" finishes off the album the only way Maceo knows how to: with plenty of fun, excitement, lively action, and mesmerizing grooves that fill up your soul.

The legend is back and as strong as ever. As long as his saxophone is cooking the funk and his body is moving, you can guarantee Maceo is out there giving it his all and putting the funk into everything he touches. Like a nice cold drink at the end of a long, hard work day, Maceo Parker's dial: Maceo is something you'll be longing for from the time you get up until the time the music blares out of your speakers and the party begins. I'll give it an A.