Fake Brain
Department of Our Ways (WABNARC)
By: Alex Steininger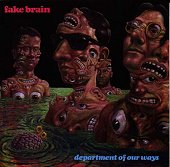 Punk rock pulsating throughout bad pop-rock, Fake Brain creates a messy, wild, uncontrollable sound that is all about mayhem, fun, and impulses. Department of Our Ways is a mesh of various sounds and styles, each cut and pasted sloppily together.

Embodying the punk rock ideal of just going out and doing it, Fake Brain is more punk than the majority of punk bands out there. They're not that good. Their music quite often sounds so cluttered, and tries too hard to be something that its not, that is often suffers.

But, the band's punk rock attitude of not giving a fuck and doing it for themselves and for the fun factor projects their music into a whole new stratosphere. They may not be overly talented or mind blowing, but they're entertaining and so out of it that you can't help but hate them to the point of liking them.

The music doesn't stay with you, but as you sit there and think, "What the hell is this?", that's when they get you. The absence of hooks is made up ten fold by the band's ability to intrigue you and feed your curiosity as you wonder just what they're about. And that's the punk rock spirit I'm talking about. It's what got me listening a few times, despite the fact I couldn't stand the music. They've got something going for them, I just can't figure out what it is, and it makes me want to keep subjecting myself to their... um... music. I'll give it a C-.