Cat Power
The Covers Record (Matador Records)
By: Alex Steininger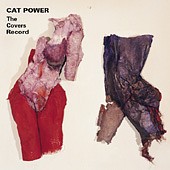 The still morning wind blows over you as you walk out of the door to go to work. The cold, frosty air stings your skin and you ignore it, though layers of clothing helps protect you from it (but never seems to do the trick). You take for granted the restless beauty of the morning as you get into your car and try to get out of the open and into a space with a heater where you'll be warm.

Cat Power's latest, The Covers Record, removes your layers of clothing, sits you down in the chilly morning air, and turns the ordinary into something new and unexpected. The Rolling Stones' classic anthem "(I Can't Get No) Satisfaction" is stripped down and completely re-visualized, sounding nothing like the original. Her tender guitar and overcast voice the only things that make the song move.

Accompanying herself with only an acoustic guitar or a piano, Marshall delivers a cover album with a concept: to re-invent songs as she's always heard them in her head or in a way that she's always visualized would work. Instead of re-doing the song because she liked it, like so many others do when they cover the classics, Marshall breathes new, or different life into the songs, making them covers, as well as something completely her own.

The Velvet Underground's "I Found A Reason" simmers with a delicate piano, while Bob Dylan's "Paths of Victory" makes your toes tap with its slightly bouncy, warming sensation. One Chan Marshall original also finds its way onto this album; "In This Hole" is delicate and supple, as the piano's distance and Marshall's personal voice seem to be miles apart before coming together in perfect unison.

A strikingly simple and delicate piece, Cat Power's take on these songs is most often as far from the original as possible. Yet, the spirit and soul that made the originals work so well is alive and well in Marshall's renditions. Her use of moderation in vocals and instrumentation, if not just flat out bare bones will find you listening to these songs again for the first time. I'll give it a B.