Anthony Joseph
Flying at the Speed of Emotion (Malkin Records)
By: Alex Steininger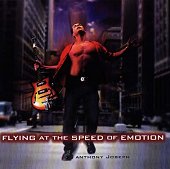 Bright, tender, and still able to roll with the punches, Anthony Joseph's brand of pop-rock is subtle and loud; explosive in an 'actions speak louder than words' way, the music engages you with hooks, but provides a strong enough backbone to keep you awake.

"Feel It Too" is a refreshing mixture of relaxed, soothing pop boosted up by guitar-driven rock influences and a nod to power-pop. "Run" bounces around with an infectious chorus surrounded by tight versus, while "Father" rockets forward with strong, loud, and in-your-face guitars exploding in a punchy power-pop setting.

"Will We Get That Far" will make you sit back and contemplate while you absorb the words. "Catch Me" will send a groove straight to your feet and make you want to move. And album closer "See Me In Your Eyes" will send more soothing pop sharpened with rock guitar your way.

An oft-soothing, frequently jarring mixture of modern rock and pop harmony, Anthony Joseph delivers a wide scope of sounds, while still building a home base, throughout Flying at the Speed of Emotion. I'll give it a C+.