VARIOUS ARTISTS
Junk Records Presents: Straight from the Gutter... And Into Your Panties (Junk Records)
By: Alex Steininger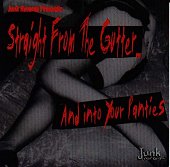 When I think of rock 'n' roll, perversion, and liquor, I automatically think of Junk Records. Wild, uncontrollable rock 'n' roll that is equal parts punk, rebellion, and good times, Junk Records never fails to feed your appetite for degenerate, trashy rock that shakes you until you can't take it anymore. And, their latest compilation, Straight from the Gutter... And Into Your Panties, a collection of to-be-released cuts previewing material from their upcoming releases, is a must for any fan of explosive music that just doesn't quit until you're having fun.

The Dragons "Roll the Dice" and score with their unrestrained, barbarous rock 'n' roll style, while The Spitfires fire a "Loaded Gun" and hit pay dirt with some grimy, parents-hide-your-daughters guitars and foot-up-the-ass rhythms sure to make you either drink harder or drop you before the alcohol does.

New Wave Hookers' "Action Satisfaction" serves up more late-night drinking music; Kamal from the Jerky Boys delivers a hilarious intro for The Bullys; and The Bullys deliver melodically intense punk rock on "Still My Home."

The highlight of the album is Bradly Wayne Shaver's (The Weaklings) "Irate Young Man," a message left on Lou's (Co-owner of Junk Records) answering machine which leaps into The Weaklings' "One Night Stand," a pumped up Stones-meets-the-Stooges punk cocktail.

Rock 'n' roll has never been so alive as it is on the latest Junk Records compilation. Songs to drink, fuck, and kick ass too, Straight from the Gutter... And Into Your Panties is a non-stop barrage of assaulting rock 'n' roll. I'll give it a B+.