Nicotine
Pleeeeeeez! Who Are You? (Tomato Head Records)
By: Alex Steininger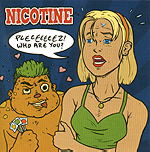 Japan's Nicotine serves up pop-punk with a slight ska tint to it. Nothing special and nothing new, they do deliver fun, though. The lyrics may not be groundbreaking, and neither is the sound, but its the energy that fuels the band and the subsequent listens you'll put the CD through.

Except for the band's butchering cover of Stevie Wonder's "I Just Call To Say I Love You," the rest of the disc goes pretty much without a hitch. Standard, bland pop punk with a healthy amount of energy, they make even the dismal seem entertaining. "My Daily Motive," "Song About A Green Age," and "L.S.D." are a few of the choice cuts on the album. A reprise of "My Daily Motive" is also offered up as the closing track, featuring vocals, an acoustic guitar, and a bunch of little kids singing along. Of course, they butcher the song, but the humor and the happiness it brings the kids is enough to make you want to smile.

It's been done before millions of times. And though they might not cause you heartburn or indigestion with their ultra-bland pop punk, they also won't make you dislike pop-punk like some of their contemporaries. They do what they do and they're pretty good at it. I'll give this a C.