Console
Rocket in the Pocket (Matador Records)
By: Alex Steininger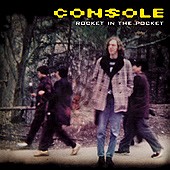 Electronica-dance with big, deep grooves, offbeat hooks, and a flare for writing wildly unconventional, challenging material, Console's Rocket in the Pocket is a journey through the mind and the unknown. It allows you to get within arm's length of the prize before it slips out of your hands and the adventure continues.

A love song from a programmer to his computer, the unconventional nature of the album comes alive on "14 Zero Zero," before sliding into the sonic grooves of the irresistibly electronic vibrations of "Gulls Galore".

The pretty "Delay Dackel" will paint vivid imagines in your head; the lush, Electro-magnetic attraction of "Crabcraft" will pull you into its gravitational pull; and the revolving dance vibes of "Bee-Queen" will freeze you in place.

As electronica becomes more and more common and more and more people jump head first into it, or implement it into their sound, it gets harder and harder (by default) to pick out the cream of the crop. Yet, when a brilliant mind comes along and hits the sub-genre or genre running with all his/her might, you know they've got something powerful. Console has something powerful indeed; I'll give it a B.