Bargain Music
77 003 (Beatville Records)
By: Alex Steininger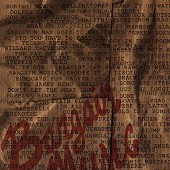 Ska, pop, dancehall, hip-hop, reggae, and punk, Southern California's Bargain Music is a more reggae-based Sublime. Just as fun, just as eclectic, but more messed up lyrically, Bargain Music's debut is filled with grooves, drug-induced partying, and plenty of good times.

The pop-reggae-punk of "Ballad of Bargain Music" gets the party started with plentiful grooves to get your body shaking, your feet moving, and your smile wide. "It's Called Fucking" is a sweet, reggae-pop-punker sure to make you smile. With lines like "It's called fucking/ I won't bother with flowers," you quickly understand where these messed up minds (in a good way, mind you) are coming from. And the deeper you get into the album, the more they mess with your mind and the more you love it.

"Black Eye," featuring Bad Brain's H.R. on vocals, is a soulful reggae-dub tripper that will have you dancing, singing along, and smiling as the sonic grooves take over your body and ensure the music is all you feel. Then there is "Lipliner," a country-tingled pop number with soul, hardcore, and rock running through its blood. "Lifeless Wandering" gets you dancing some more with its infectious dancehall beats, while "Theme From an Imaginary Porno," with its drum machine-driven beats and soft guitars, will have you feeling the vibes that Bargain Music is all about.

How many albums out there have soul, humor, fucked up minds at work, and plenty to grab onto and dance with? Not many, yet Bargain Music excel at all of this. Their debut proves that there are others out there like Sublime who are willing to pick up the torch and not disgrace the eclectic grounds they paved. I'll give it a B+.