The Warren Commission
Rendezvous With You (Espo Records)
By: Alex Steininger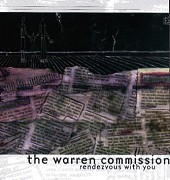 Boy-girl indie pop act The Warren Commission deserve props for the most original packaging as-of-late for an indie pop act. A notebook diary with a spine and all (including pictures and lyrics entered in as dairy entries), they stray away from the conventional jewel case idea and give fans something special in both a packaging and a musical sense.

Rendezvous With You is a collection of five new cuts from this powerful indie rock act. "Jinx! You Owe Me A Coke" trades off between female and male vocals while the smoldering music hits you with crisp pop beats before jumping into aggressive, pounding rock moments. "How Can I Lose?" gets you moving along with the hooky guitar chords, before slowing down and bringing you in before jumping right back into some more screaming indie rock momentum (their specialty). And then there is "The Consequence of Boys and Girls," a light, piano-led pop number that shows the band's diversity and expand beyond the normal indie pop-emo grounds they tread.

Refreshing, inventive, and a lot of fun, The Warren Commission make sure from the aesthetic look of their packaging to their well thought out music that you're entertained and enjoying yourself. Rendezvous With You is the perfect follow-up to their previous EP, what the Rain Doesn't Know. I'll give this a B.