VARIOUS ARTISTS
The Next Best Thing: Music From The Motion Picture (Maverick)
By: Alex Steininger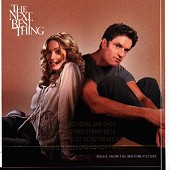 If you've been following reviews on the movie The Next Best Thing then you've probably read the bad reviews the movie is receiving. OK, so it seems the movie sucks. I've yet to see it, and probably won't for a long time (when HBO airs it or I rent it one night out of boredom). But, what about the soundtrack? Well, it jumps around from teen marketing sensation Christina Aguilera to electronica masterminds like Moby and the talents of Beth Orton. And, includes Madonna's stunning take on the Don Mclean penned classic "American Pie." So, as I'm sure the movie will be stoned by some and loved by some, the soundtrack has the same thing going for it.

Predominantly electronica-techno based, Aguilera's "Don't Make Me Love You ('Til I'm Ready)" sticks out like a sore thumb and becomes an easy target to attack. It's teen sensation and sex appeal marketing landed Aguilera a hit and a sea of fans, yet as this song shows, there is no substance beyond a pretty face and a cute body to take her anywhere.

Madonna, who was written off many times as just a sexy marketing ploy, shines on the album's standout cut, "American Pie." The melancholy number is uplifted with her dance beat grooves and her cheery voice. But the sad loss and tears that run through the song aren't thrown out. Instead, Madonna opts to remember them for the happiness and positively they brought to our lives, honoring the three (Valens, Holly, and the Big Bopper) with a big 'thank you', upbeat number that gets you dancing and thinking of them.

One of the best covers I have heard in a long while, and on such a classic number, Madonna deserves massive praise for her taste and choice selection. Heck, I'll admit it; I'm a huge Madonna fan. Her 80's material is timeless and this song proves she's going to shine in yet another decade.

Madonna's other selection on the album, "Time Stood Still," co-wrote and co-produced by Madonna and William Orbit, is a lush, poppy dance number that showcases her beautiful voice and her ability to uplift your spirit and put you in a positive mood regardless.

Beth Orton's "Stars All Seem To Weep" gives you a dance-hop-pop number to fall into, Solar Twins' "Swayambhu" hits you with sonic depth and grace, and Moby's "Why Does My Heart Feel So Bad?" unleashes the electronica as it sheds its skin and gives you both power and punch. All an all, a decent soundtrack, despite the movie, and even with Aguilera's out-of-place cut. I'll give it a B.