The String Cheese Incident
Carnival '99 (SCI Fidelity Records)
By: Alex Steininger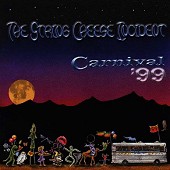 Carnival '99 is a collection of live highlights from the band's countless performances throughout 1999. Ripping into a festive bluegrass rocket one minute and the next minute playing crisp calypso grooves, The String Cheese Incident are an eclectic pack of musicians who love rock, jazz, world beat, and the previously mentioned styles of music, to name a few. And it reflects in their music.

"Shenandoah Breakdown" cruises along with speedy, highly engaging bluegrass. "Mauna Bowa" has you up on the dance floor and moving to the warm grooves of calypso, and the blues of "Hey Pocky Way," complete with the band's undeniable funk grooves and dance energy, makes you want to shake, rattle, and smile to the friendly sounds the band creates. And that's just disc one.

Disc two gets you moving once again. "Footprints" is a soothing blend of jazz, world beat, and a slight funk thump, which will have you holding your loved one tight as you heat up the night with this slow dance groove. "Birdland" infuses punchy bluegrass into the show yet again, whereas the world beat of "Jellyfish" will have you moving once again to the enjoyable grooves the band creates. And then there is "Texas," the album closer. A funky groove with the dazzling jazz elements the band infuses and you're set.

The term "party band" is definitely fitting here. But, it is also too narrow-minded. The band can party, and makes you dance on nearly every track. But, they're so much more. They're an engaging band that brings a good time to any festival, venue, or club they play. They're a traveling carnival, as the title of the album suggests, and this album is proof of that. I'll give it a B.