Instar
Rich Girls EP (Launchpad Entertainment)
By: Alex Steininger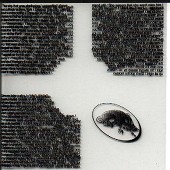 Led by frontman Karl Von Kries, Boston's Instar delves headfirst into pop in all its forms. From the subtle to the outright, Instar deliver pop momentum fresh and alive each and every time you listen.

"Starlings" is laid back and easy going, resting the pop hooks along side a steady, mid tempo rhythm section and tender, settled vocals and light guitars, while "DSM" starts to shake things up a bit as Instar starts to roar and lean more towards rock than pop. "New York" finds the band reaching into harder rock territory as they take the worst of modern rock radio and try to spice it up with some pop. Not their best work, though, as Karl's voice doesn't have the range to pull off the long lasting screams and growls of like-minded backs like Alice in Chains or Godsmack. Though, better at the pop, anyhow, this territory shouldn't even be approached.

The band regains their composure on the light, bouncy "Negative Man" and "Hellen," though, giving proof that the poppier they are, the more relaxed and enjoyable the music is. But when they veer off into the dreaded hard modern rock territory, that is where they begin to lose it. I'll give it a C-.