The Spitfires
In Too Deep Again (Junk Records)
By: Alex Steininger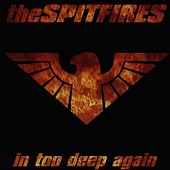 Junk Records never seems to fail unleashing punk rock that embodies the rock 'n' roll spirit of kicking back, having fun, and not giving a shit what others think and doing what you want to do no matter what onto the world. And with the release of The Spitfires' In Too Deep Again, the tradition continues. Shit kicking rock 'n' roll from this Vancouver, BC quintet, The Spitfires aren't afraid to have a good time.

"Something To Nothing" blazes through anything - path or not. Loud, in-your-face guitars accompany the rock solid drums and the undefeatable bass, while the obnoxious drunk, center-of-attention-at-any-party vocals drill through the words with precision and a bloody growl to them.

The title track slows things down, but keeps everything as intense, loud, and fierce as possible. Like a bad head wound that leaves you paralyzed, the song slams in the back of your head, stunning you at first while you try to figure out what happened, and then slowing things down around you while it spins in your head leaving you breathless. "Fire" drags you in screaming with its chunky guitars as they build the anticipation level before slamming into you with drunken, barroom rock 'n' roll mayhem. And "High School" is a classic anthem in the making, proclaiming "high school sucks" in the chorus. Also dealing with being the outcast while making it through your crummy existence ("I can't walk down the halls/ Without a push or a shove/ I ask myself is it worth it when I'm not that tough") and finding your way out ("You can do what you want/ Or you can come with me/ Because this is the last time/ I hear that school bell ring"), The Spitfires sum up the shitty-ness of high school with fury and vengeance.

"All Night Long" blows through more sweaty rock 'n' roll with alcohol on the breath, "New Borns" lures you in with a seductively wild ease, "Slick Black Cat" cuts through you yet again with its bloody mesh of screaming guitars, hammering drums, and fiery bass, while "Downtown Tonight" ends the party with one last bang.

Rock 'n' roll, punk, or whatever... if you're in it for a good time, some power, and music that won't let you down, The Spitfires are your solution. Party rock without being too frivolous, The Spitfires hit life on the head and provide some moments of joy between the five o'clock whistle and the 7am wake up call for work again. Forget about your problems and party with The Spitfires, they're inviting you. I'll give this an A.