Goldfinger
Stomping Ground (Mojo Records)
By: Alex Steininger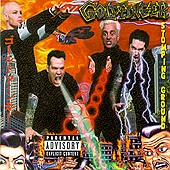 In 1995 they burst out of Southern California and into the limelight with their ska-induced pop-punk ditty "Here In Your Bedroom," a single that helped launch the ska craze that lasted a few years. Now Goldfinger is back with their third full-length, Stomping Ground. Less ska and more pop-punk (the band's strong suit), Goldfinger delivers infectious, sugary pop-punk that blows the rest out of the water. More appealing lyrically than the rest, and with sharper hooks, the band has a drive unsurpassed by others.

Whereas some pop-punk bands seem bland or lack the energy to separate themselves from the hordes of others, Goldfinger excels at power, energy, and aggression. "I'm Down" bites right into the fast, pop-punk that fans nationwide have come to enjoy. Feldmann's voice is combative and in-your-face; yet, it is also the inviting hook that reels you in and helps make you a part of the music.

"Pick A Fight" continues with the band's pop-punk sensibility and Feldmann's versatile voice. Tackling a destructive, love-hate relationship, Feldmann's contempt and anger for the situation boils with his love and need for this type of relationship as he projects his frustration and jaded outlook towards his ex, while also giving fans something to grab onto and relate with.

Throwing some ska-dub-reggae into the picture, "Carry On" gives you a taste of the band's other parts. Infusing hardcore and ska, before sweeping you off your feet with a juicy pop hook, Goldfinger breaks out of the pop-punk spectrum while still managing to ensure every hook hits you right in the face and keeps you listening.

The current single, "Counting The Days" finds the band at their best, delivering pop bliss with just the right amount of punk fuzz to keep the song tough enough to shake you, and sugary, hook-filled enough to have you singing along word for word.

But, just like past albums, Goldfinger doesn't bore you or put you to sleep with track after track of the same song. Mixing things up, the fuck off hardcore of "Bro" once again proves this is more than a mere pop-punk band; rather, they're a band that does the pop-punk thing well, but can still dive into other areas of interest and deliver the goods. The anger, the contempt, the jaded-ness, and the spite all come to a head on this blistering, pure adrenaline number that will hit you in the back of the head and force your eyes out of your eye sockets. All before making you dance with a ska bridge followed by more hardcore.

"Forgiveness" will have you singing along with its emotional lyrics and its burning, straight-from-the-heart tale, while "Margaret Ann" will have you dancing with its poppy groove and bouncy chorus. But it's the band's cover of the classic 80's radio favorite "99 Red Balloons" that will really make you smile. Sung in both American and German, Goldfinger takes the 80's pop standard and gives it a pop-punk boost that is as infectious and enjoyable as the original.

One of the few bands to survive the third wave of ska and still remain on a major label, Goldfinger gives the label and fans a reason to rejoice. They're back with another album filled with enticing, enjoyable pop-punk sure to make you smile. I'll give it an A-.