Ophelia's Sweet Demise
Ashes to Lashes (Self-Released)
By: Sonya Brown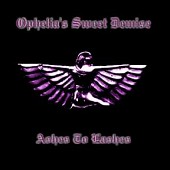 I was thrilled to receive the new Ophelia's Sweet Demise EP, Ashes to Lashes, because I was immediately impressed with the guitar work from the moment the first track began. Opehlia's Sweet Demise also brings strong vocals to this EP. While Daniel Kufahl provides the lead vocals, there are backing vocals done by Rik Gravens (guitar) and wonderful female vocals provided by Kat DeWinter.

My favorite track is Cobalt Blue - and this song got stuck in my head almost instantaneously. It has an impressively strong rythym, and great lyrics (..."you're a sadomasochistic walking tragedy"...). Another favorite is "The Veil" ; again with the vibrant guitar, this time provided by Joe Angel Ramirez III. Oh, and I love "Disappear" as well. This track is heavy, yet the keyboard sounds give it a lightness.

Ashes to Lashes will soon to be available on the Ophelia's Sweet Demise web-site for a limited time until the full-length is completed. The band is calling Ashes to Lashes an EP, though it is actually the promotional copy being distributed for labels and DJ's. All the tracks on this release are going to be on the full-length.

I would definately recommend Ashes to Lashes, and I'm looking forward the full length.