SPV
Demons & Wizards (SPV Records)
By: Alex Steininger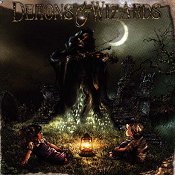 There's nothing worse than metal that goes soft and tries to sound really soothing before ripping back into some half-assed, weak metal. Hence, there is really nothing worse than this album. SPV (Iced Earth's Jon Schaffer and Blind Guardian's Hansi Kursch) deliver some weak, watered-down metal that tries to be tough and sensitive, jumping between pop-metal choruses, cheesy slow songs, and attempted hard rockers.

The album takes a nosedive from the get go and never regains its position. If you're a wanker metal fan and want to put your feet wet in the kiddy pool, by all means. Otherwise, hey, aren't there some real metal bands out there that you can enjoy? I know there are. I'll give this an F.