My Scarlet Life
InfraRed (DivaNation Records)
By: Sonya Brown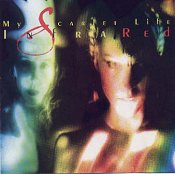 One of the things I enjoy about the My Scarlet Life CD, "InfraRed", is the difficulty I have in categorizing it. The female vocals, strings and keyboards on some of the tracks lend themselves more to the ethereal side, yet there is a definite techno/electronic side as well. The more minimalistic sounding "Angel's Whisper" is more focused on vocal harmony; yet "Rainy Sundays" seems more "pop" in nature than the other tracks.

I think one of my favorite tracks would have to be "So Frail", which has a wonderful gradual fade-in of harmony. The track begins with what sounds like someone arriving home, tossing their keys down, and turning on the stereo. The music from the stereo then takes over the song, completely enveloping all outside noises. What a wonderful concept, to be able to immerse yourself in music that can overcome all outside distractions. I also love the strings (viola, violin & cello) on this track.

The eclectic combination used by My Scarlet Life works nicely on InfraRed, and the lyrics lend themselves well to the musical content. The harmony of the vocals is also quite beautiful (the track "Don't Make Me" is another fine example of this). I would like to see this band perform live sometime, but I do enjoy the recorded version & would recommend the cd.