Wolf Colonel
Vikings of Mint (K Records)
By: Alex Steininger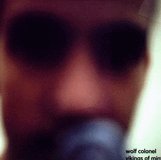 Portland's Wolf Colonel deliver ample rock and pop charm, as well as humor, on their debut. Fifteen infectious, catchy, and excitable songs, Wolf Colonel's debut puts them ahead of the class in the power-pop sub-genre as they do it right the first time. The hooks are crisp, the rhythms are fierce and bouncy, and the songs don't take themselves seriously (they know they're rock 'n' roll and nothing more).

The longest song on this album is two minutes and thirty-three seconds, and the majority of the songs on here don't even come close to that. The band knows how to whip up two-minute pop bliss, moving on to the next one as soon as they're done, ensuring you're never tired or bored with their music. "Mister Easter Aeroplane" is undeniably infectious, an album favorite from first listen, while "Dear Elliott" reels you in a bit before unleashing the rock that is in store for you.

"The Top Seven Singles Club" is all guitar fuzz, grooving bass, and hard-driving, bouncy drums. The vocals are fun - both in listening to them and in mood. You can't help but feel they're just bashing out pop music for their enjoyment and taking you along for the ride. "Scared of a Snail," the longest song on the album, possesses a bedroom feel to it: A band bashing out a mid tempo pop song to keep themselves occupied, while the room to the door creeps open an inch and the outside world gets to peak in as well.

"Know What the Story Is" and "You Ignore Me" are two more enjoyable pop ditties sure to put a smile on your face as the band unleashes charming, catchy hooks aplenty and bold rhythms that grab a hold of you and just won't let go.

Strong power-pop seems to be a thing of the past. Bands either forget about the pop and just go modern rock or they decide they want to be punk, leaving an emptiness in the sub-genre. Wolf Colonel fills that void eagerly with tight, wild pop songs that sparkle. I'll give this an A-.