VARIOUS ARTISTS
Ramen Holiday (Northwestern Inc.)
By: Sonya Brown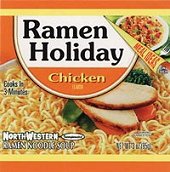 The nice thing about compilations is that you get to hear from a variety of genres that you might otherwise overlook. The nice thing about this particular compilation is that you can sample local bands from the Northwest area & beyond. I also like the cover artwork, featuring a big bowl of Ramen Noodle Soup; but I hoped the bands featured were far more flavorful than the actual "noodle" product. Luckily, the mix proved to be a tasty one.

I'll admit that not all of the bands on this cd are my cup of tea (or, cup of noodles as the case may be); but there are several reasons to pick up a copy. The first reason is the beginning track by Jesus Presley, "The Velvet". This song has been my favorite Jesus Presley tune since I first picked up a copy of their full-length CD "Baptism of Love". The Rev. Tony Hughes has a voice that's positively sultry, and "The Velvet" is a perfect presentation of his vocal prowess.

The next reason to not let this CD escape your collection is the track "Circle Dance" by Sumerland, one of my long-time favorite Portland bands. Pure magic. I can't wait to hear their full-length release due out very soon, which vocalist/guitarist Dorien informs me will consist of 12 tracks that he feels are just as potent as Circle Dance. In the meanwhile, the inclusion of "Circle Dance" on the Ramen Holiday CD will partially satiate my hunger.

And, as if you needed any other reason to pick up a copy of Ramen Holiday, Written In Ashes' contribution, "Corners", is also featured on this cd. Such lusty vocals to gorge upon. Yumm!

Other artists featured on this cd include The Viles, Carmina Piranha, The Daylights, Les Wilson, Maniac Lok, The State Flowers, Stephanie Schneiderman, Harrison, Kaitlyn ni Donavan, Colorfield, Reclinerland, Orange Kandy, and Sound Secretion Dub.

Fortunately, Ramen Holiday turned out to be a rather tasty treat. The noodles may cook in 3 minutes, but the CD begins to cook immediately.